Where to charge up in electric city
Where to charge up in electric city
Electric vehicle charging stations are constantly popping up in Peterborough, Ontario, with the growing number of electric and hybrid vehicles on the road. At Peterborough Mitsubishi, we have introduced nine new electric vehicle charging stations in Peterborough, Ontario, to make it easier for you to charge up quickly! It's also always a good idea to keep your PHEV plugged in your garage overnight, so you're always ready for the road. As part of our continuous effort in keeping our neighbourhood clean of emissions Peterborough Mitsubishi and Kawartha Lakes have joined forces to help introduce nine new electric vehicle charging stations to the community of Peterborough. The addition of these charging stations not only marks a milestone for the community Peterborough but it also solidifies our city as leaders in the eco-revolution. By playing our part in eliminating harmful gas emissions, Peterborough is able to grow and flourish at an unprecedented rate.
Contact Peterborough Mitsubishi for details on electric vehicles such as the new 2020 Mitsubishi Outlander PHEV.
Your Charging Stations in Peterborough: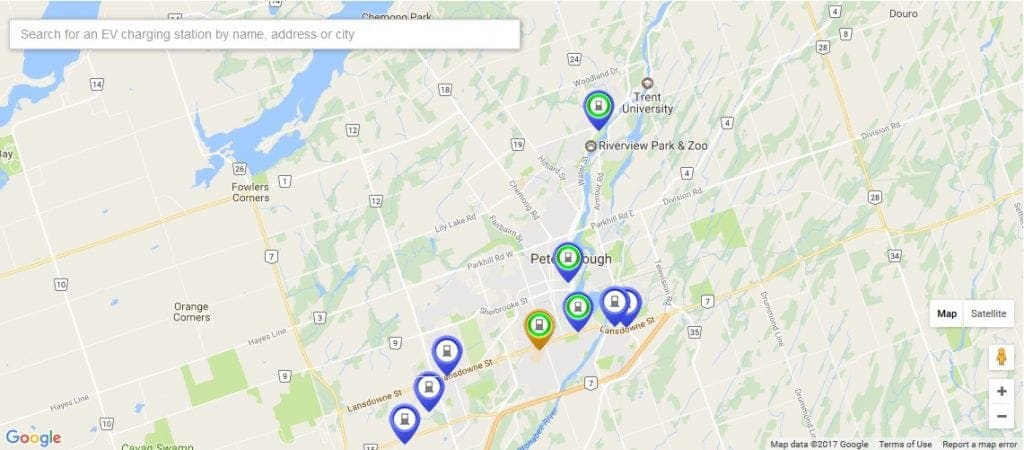 The city of Peterborough has 14 public charging station ports (Level 2 and Level 3) within 15km. 93% of the ports are level 2 charging ports and 21% of the ports offer free charges for your electric car.
The community of Peterborough now has 9 additional charging stations in the following areas:
Peterborough Zoo
Lansdowne Place Mall
Peterborough Memorial Centre
King Street Parking Garage
Asphodel Norwood Township office in Norwood & Lakefield Downtown location
What are Hybrid Vehicles?
Hybrid vehicles have brought innovation to the automotive industry. They have both a traditional gasoline engine and an electric motor, so you get the best of both worlds. A Hybrid Electric Vehicle (HEV) is one where its battery is charged using energy generated by the internal combustion engine through regenerative braking. With every deceleration, electric energy is produced and used to recharge the battery.
Is PHEV Better Than Hybrid?
A PHEV (plug-in hybrid electric vehicle) is super versatile. It can be recharged by being plugged into an electric source the same way a fully electric vehicle gets recharged, in addition to being charged through regenerative braking, which gives it a huge advantage over the HEV.
What Is the Point Of PHEV?
What differentiates a PHEV is that you can drive on purely the electric motor for a limited time and range, such as when idling at a red light. A PHEV usually has a bigger battery and larger battery capacity, leading to a better fully electric driving range. It can be plugged into a regular household electric outlet which makes it incredibly convenient. It can also be plugged into electric charging stations for fast charging.
Is It Worth Buying a PHEV?
PHEVs are incredibly fuel-efficient and have lower carbon emissions and a reduced environmental footprint compared to regular HEVs. Our Finance Centre will help you get started on a life of sustainability and affordability with competitive financing for your new PHEV.
2022 Mitsubishi Outlander PHEV for Sale
The 2022 Mitsubishi Outlander PHEV is one of the top Mitsubishi PHEVs on the market. This SUV has a total driving range of 509 km and a purely electric range of 39 km, along with a highly efficient 2.4-litre gasoline engine. Our new inventory features the 2022 Mitsubishi Outlander PHEV in stunning trims and modern features. Trade-in your vehicle for a 2022 Mitsubishi Outlander PHEV today!
The new Peterborough Mitsubishi Outlander PHEV is the ultimate electric hybrid SUV. It has the efficiency of a plug-in and all the flexibility of an SUV. The Outlander PHEV is the only Plug-in Electric Hybrid Vehicle with Super All-Wheel Control, ensuring safe, secure handling no matter the road or weather condition. You can use less (or no) gas with every drive and produce zero tailpipe emissions in electric mode, meaning that you can drive with confidence knowing that not only are you saving on fuel but also assisting in making the community of Peterborough a cleaner more vibrant place to live. With the addition of the new charging station at Lansdowne Place, they'll be no shortage of power for your new eco-friendly vehicle.
Contact the sales team at Peterborough Mitsubishi to schedule your Mitsubishi Outlander PHEV test drive today and join the eco-revolution!